From WhatGoesOn.com: Most Beatles fans know that the Beatles perfected their craft in Hamburg in 1960, where they met Astrid Kirchherr, a budding photographer who became close friends with the band, eventually becoming engaged to their original bassist, Stu Sutcliffe. Astrid took the first iconic and best known photographs of the Beatles during those years in Hamburg.
Beatles fans may not know, however, that some four years later, Astrid, accompanied by photojournalist Max Schele, visited John, Paul, George, and Ringo in London during the making of A Hard Day's Night. The rarely seen photographs taken that period are now available in a new book, Yesterday: The Beatles Once Upon a Time.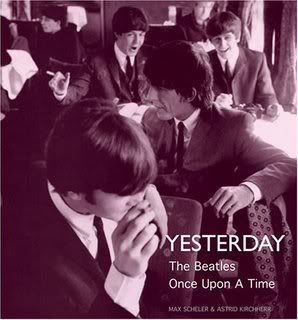 Astrid's close friendship allowed for unrivaled access and led to a unique collection of photographs which focus on the Beatles in private as well as public moments. The images present rare, unguarded moments that give us a unique opportunity to see The Beatles as they really were, not as they were presented to us by the media and by their promoters.
Yesterday: The Beatles Once Upon a Time  also documents the Liverpool of 1964, and the music scene of Liverpool energized by the success of the Beatles, capturing the rhythm and texture of the seaport city where the strains of pop music history were transformed by the Mersey Beat and the greatest band of all time.