An auction of Beatles Memorabilia to be held in Las Vegas on July 3  in conjunction with the Beatles Fest will feature several examples of original bassist Stuart Sutcliffe's art. The lots include Abstract Sculpture, Abstract Figures on Paper, Seagull Painting, Abstract Oil Paintings, Charcoal and Ink Artworks, Handwritten Song Lyrics and Set Lists, Handwritten Poems, Liverpool Art School Artworks, Pen and Ink Drawings (such as Stuart's character study sketch of John shown below), Self Portrait Sketch, Watercolor Painting, and others.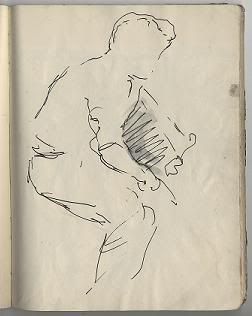 Besides the Stuart Sutcliffe Collection, the auction will include over 350 lots of Beatles Autographs, concert posters and ephemera, records, toys and memorabilia. There will be items from $100.00 to $100,000. 00 so everyone can buy something for investment or for fun.
A full color catalog is available from ItsOnlyRockNRoll.com for $30.00 postpaid. There will be a live auction beginning at 2:00 p.m. Las Vegas time as part of The Fest For Beatles Fans. Seats are available with the purchase of a catalog. Bidding will be available in advance by contacting ItsOnlyRockNRoll.com and on eBay in conjunction with Victorian Casino Antiques of Las Vegas.