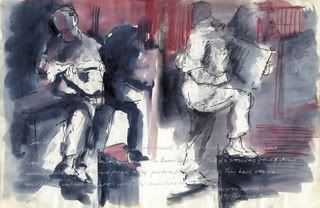 Rock Art Show is currently offering a limited edition print of a sketch done by Stuart Sutcliffe during the early days of The Beatles, probably around early 1960. "Meet the Beatals" is a watercolor painting (circa 1957 – 1960) featuring the early Beatles in their skiffle days taken from Stuart Sutcliffe's personal sketchbook. Superimposed on the bottom of the sketch is the text of Stuart's letter of March 1960 which is believed to be the first documentry evidence of the name change from The Quarrymen to "The Beatals."
The text of Stuart's letter reads:
Dear Sir,
As it is your policy to present entertainment to the habitués of your establishment, I would like to draw your attention to the (Quar then crossed out) "Beatals." This is a promising group of young musicians who play music for all tastes, preferably rock and roll. They have won many competitions including Carroll Levis and auditions for A.T.V.
Yours Sincerely,
Stu Sutcliffe (Manager)
More details about the Limited Edition Print can be found HERE.