According to this article in the UK's Daily Telegraph, a pair of John Lennon's trademark "granny" glasses for sale in an online auction could make up to £1million.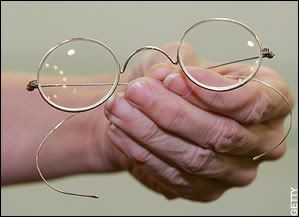 The gold-rimmed spectacles were given by the former Beatle to his Japanese translator Junishi Yore in 1966 during the band's tour of Japan. Their dark lenses are missing as Mr Yore removed them when Lennon was murdered in 1980. In a traditional mark of respect, he pushed them out with his thumbs so that, in death, Lennon could see.
The Beatles faced death threats from religious fanatics over their concerts at the sacred site of Budokan. While holed up at Tokyo's Hilton Hotel, Lennon struck up a friendship with his translator. And after the band's final gig, the pair swapped gifts in the Japanese tradition. Mr Yore presented Lennon with a set of copper cups and received the spectacles in return."
The auction on the website 991.com is open until the end of the month.